The weather in San Vigilio
If you are going to San Vigilio or if you need to plan the next few days of the holiday take a look at the San Vigilio di Marebbe weather forecast. In this way you can avoid and unpleasant surprises if you want to undertake an excursion!

Today: Sun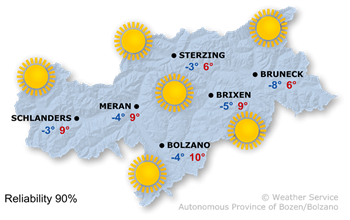 Sunny weather with clear sky. Decreasing winds. High temperatures will be between 3° and 11°.
---
Tomorrow: Sunny
Sunny weather, in the morning low startus clouds in the valleys in the South. After a frosty morning maximum values between 4° and 11°.
---
Next days Weather forecasts: Sunny weather on Wednesday and Thursday