The weather in San Vigilio
If you are going to San Vigilio or if you need to plan the next few days of the holiday take a look at the San Vigilio di Marebbe weather forecast. In this way you can avoid and unpleasant surprises if you want to undertake an excursion!

Today: Lots of sunshine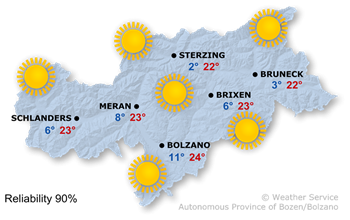 Very sunny all over the day. In the afternoon maximum values between 18° and 24°.
---
Tomorrow: Sunny weather
Sunny weather with clear sky. Top temperatures between 20° and 25°.
---
Next days Weather forecasts: Sunny and calm autumnal weather.